As a qualified driver, do you want to attain financial freedom with a job that gives you peace of mind and lets you spend up to 97% of your weekends at home with your family and loved ones?

Are you looking to work with a trucking company that upholds its core values of family first and puts the safety, comfort, and success of its employees as its top priority?
Are you looking for Truck driving jobs in Memphis, CDL Truck driver jobs, Midsouth, OTR jobs, Team and local driving jobs?
Then, we've got good news! We are hiring company drivers at Cooper Freight Service!
Think you've got what it takes to join our Team?
Then, continue reading to know all the immense benefits that are in it for you!
Let's dive right in.
Who We Are at Cooper Freight
At Cooper Freight, we are an truck load freight company dedicated to the safe delivery of essential products to and for our customers. With the help of our committed workforce, we've transported goods efficiently for 50 years. We have over a 100-truck fleet, and we safely transport anything from HVAC equipment to tires and raw materials for production across the U.S.
What We Do
Below is a list of our services at Cooper Freight Company.
Truck Load: We offer 48 stage coverage transport service.
Yard Management: We effectively monitor trailers in and out activities and to and fro movement from the dock during loading and off-loading.
Expedited Pick Up: We deliver directly to our customers.
Drop and Hook: We deposit trucks for our customers to load and unload.
Multi-Stop: We can stop at different stops for a single trailer.
Long Haul: We cover long distances, trips beyond 500 miles.
Short Haul: We cover short distances below 500 miles.
Team: We offer two drivers in a single truck for continuous deliveries.
Who are we looking for?
We are currently looking for qualified drivers to join our Team. Our target audience is drivers who are looking for Truck Driving Jobs in Memphis, CDL Truck Driver Jobs in Midsouth, OTR Jobs, Team and Local Driving Jobs.
What are the benefits of working with us as a driver?
At Cooper Freight, we are not just a company whose main aim is to satisfy its customers; we hold the safety, comfort, and progress of our employees in high esteem. We strive to build long-term partnerships not only with our customers and suppliers but with our workforce as well. We are unarguably the best Trucking company to work for. Below are the numerous benefits you will enjoy when you join our Team
Spend Most Weekends at Home
At Cooper freight, we believe  family is everything, so rather than take you further away from home, we draw you closer to home. As a driver at Cooper freight, you will get to spend most weekends at home with your family.
Driving with us means you will be home 97% of the time on weekends. You will be able to attend to other commitments, go on short trips, visit the places you love and create lovely memories with the ones you love. We will always do what we can to keep you closer to home.
Enjoy Great Pay
We are a company committed to quality, and to us, quality doesn't end at quality customer service and quality product delivery; we go way beyond that to give our employees quality living through great pay. Below are our payment benefits:

Get Medical Benefits
At Cooper Freights, we put the health and safety of our employees first. Your life matters to us, and we will never put you at the risk of death, injury, or accidents. Below are the medical perks that c0mes with driving with is at Cooper Freights:
Medical Insurance: We cover medical expenses that come as a result of sickness or injury.
Short or Long-Term Disability Insurance: We insure your earned income against the risk of any disability that may hinder you from performing your role effectively.
Dental and Vision Insurance: We provide an insurance plan that covers treatments concerning your oral and visual health. Routine procedures such as checkups, x-rays, vision tests are covered.
Life Insurance: We provide a life insurance plan. We will pay your family and loved ones an agreed amount of money if you pass away.
AFLAC: We provide AFLAC supplements to our employees to cover unexpected medical expenses.
Credit Union: We provide Credit Unions that offer better savings rates and lower loan rates to support our employees in unexpected situations.
Pet-Friendly Rides: Our transport policy ensures that all rides are pet-friendly; the safety of our drivers is a priority to us!
Rider policy: Our rider policy was crafted with your comfort and safety in mind.
Use Top Quality Equipment
As a top-tier truck load-freight company, all our equipment is of top-class quality to provide you with the best working experience. All equipment is purchased to give you a seamless experience when you drive and work with us. All equipment is built to provide top safety and prevent potential harm. Here's what we mean by top-quality equipment.
Assigned 4 years or newer Trucks
Moving towards all automatic transmissions
Idle Reduction System
Inverters
Elite Pass (scales & tolls)
Outward-facing cameras
Blindside camera assistance
Enjoy Top Quality Facility
We offer the best quality facilities to aid your work on site. Below are the top qualities facilities we offer:
Secure and gated facilities
Several drops and hook locations
On-site fueling
State of the art wash bay for trucks and trailers
One of the lowest CSA scores in the industry
Experience Good Workplace Culture
We create a comfortable environment for our employees to work in. All our values, traditions, interactions, and traditions are channeled to creating a workplace environment that is good for you. Below is workplace culture: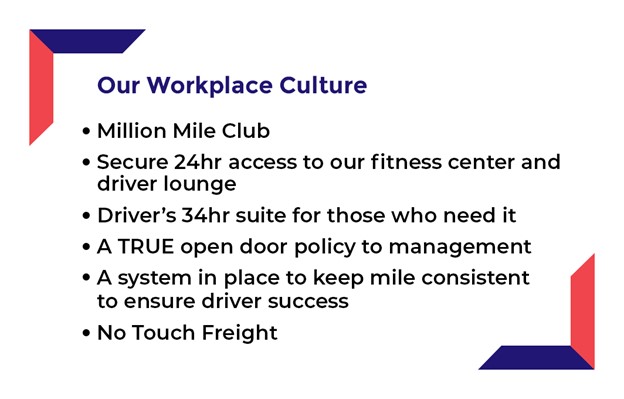 Driving with us at Cooper Freight Company comes with all the afore mentioned benefits and more. We are currently hiring company drivers. Are you a qualified driver looking for truck driving jobs in Memphis? CDL driver jobs in Midsouth? OTR job? Team truck jobs? Local driving jobs? We are the best trucking company to work for! Send your applications now!