At Cooper Freight, we are a licensed freight shipping and trucking company in Memphis, TN dedicated to delivering goods on time every time. We have a coverage of 48 states, and with over 100- truck fleet, we transport anything from HVAC to equipment to tires to raw materials for production across the United States.

We aren't just a transportation company; our values are deeply rooted in exceptional service and satisfaction to our clients and employees because people are our greatest asset. For this reason, we celebrate our drivers who have worked relentlessly, traveling many miles to deliver goods to our clients across the United States.
Meet our One Million Mile Truck Drivers
Attaining the goal of driving one million miles is one of the greatest milestones in the career of every professional driver. We celebrate our one million mile truck drivers for never losing focus on their journey, for eliminating every distraction, and for staying dedicated to their jobs.

Aaron Carden
Aaron has driven over one million miles with Cooper Freight. He has proven to be a reliable driver we can count on at every step of the way. He is responsible and committed to delivering exceptional service at all times. Thanks, Aaron, for your hard work and dedicated service to Cooper Freight. We celebrate you for all you do!
Charles Nolden
Charles has driven One Million Miles with Cooper Freight. Thanks, Charles, for having an excellent record of patience and commitment. For being a dependable driver with a mantra of quality service delivery, we celebrate you!
Daniel Freeman
Daniel Freeman had been working with us at Cooper Freight since 2013 and prior to his passing he had completed his 1,000,000 miles with us. For all the years he's spent with us, we knew Daniel to be one of the kindest and most respectable men we've met. Thank you, Daniel, for your warm-heartedness; we will miss you!
Meet Our 2 Million Milers in 2021
We are proud of our 2 million milers in 2021 and all that they've accomplished on and off the road. It takes a great deal of commitment and sacrifice to achieve this feat, and for that, we are filled with gratitude! Meet our men who have attained 2 million miles on the road in 2021!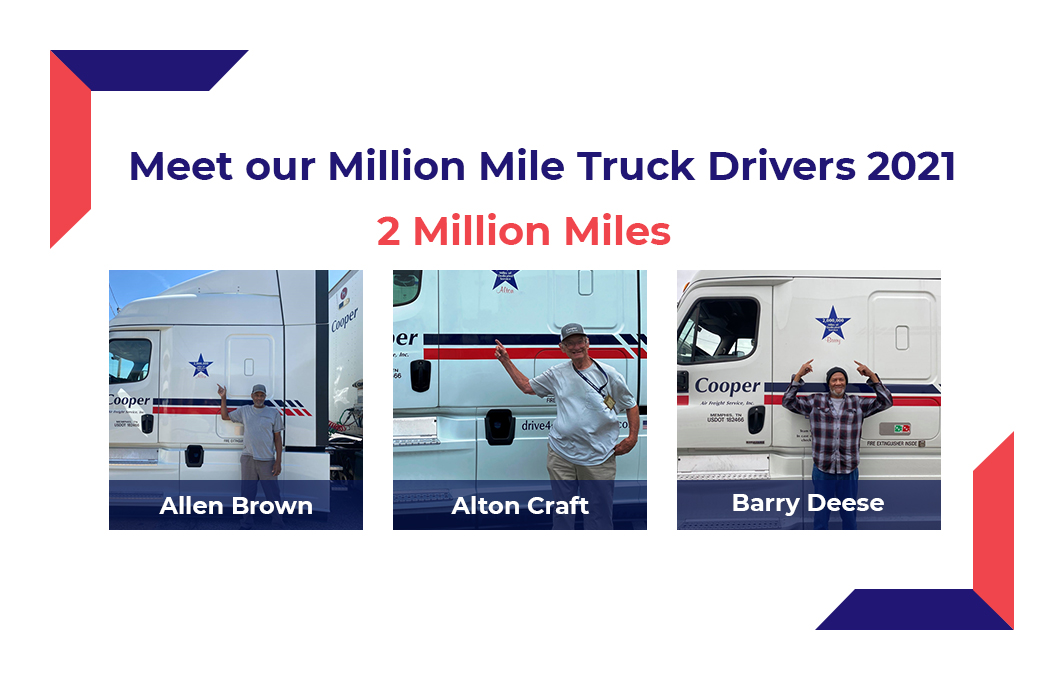 Allen Brown
Allen has completed 2 million miles with us. Thanks, Allen, for your hard work, for your commitment to meeting and exceeding expectations, and for staying dedicated to the vision of the company. We celebrate you!
Alton Craft
Alton has completed 2 million miles with our company. He is a relentless and exceptional driver with an unbeatable positive attitude to work. Thanks, Alton, for your diligence and earnest dedication to your job. We celebrate you!
Barry Deese
Barry has completed 2 million miles with us at Cooper Freight! He is a self-motivated and hardworking driver committed to doing a good job always. Thanks, Barry, for your zeal and devotedness to Cooper Freight. We celebrate you!
DRIVER PERKS AT COOPER FREIGHT
At Cooper Freight, we are committed to keeping our employees happy. We strive to create positive working policies and an environment for our workers to thrive and reach their full potentials so they can attain maximum fulfillment in what they do. Below are the perks and incentives of working with us;
Home most Weekends
We put family first in all we do at Cooper Freight. So, we ensure that while our drivers work during the week, they spend their weekends creating and relishing lovely memories with their families, 97% of the time.
Excellent Pay
Our drivers enjoy impressive pay for a job well done. We deliver attractive remuneration to our workers to live comfortable lives.
Pay goes from $62 000 – $89 000 annually, with a consistent increase every 6 months for exceptional service! Our drivers get paid weekly, with other bonuses such as a $5 000 Sign-On Bonus, safety bonus, referral bonus, and paid stop-offs.
Quality Equipment and Facilities
We provide first-in-class equipment and facilities to guarantee our drivers' safety and efficiency. We offer many drop and hook locations, on-site fueling, ultra-modern wash bay for trucks and trailers, inverters, outward-facing cameras, blind side camera assistance, and lots more.
Positive Workplace Culture
We build a pleasant workplace culture that increases job satisfaction, facilitates productivity, and boosts our employees' morale.
We have a Million Mile Club where we recognize our employees' accomplishments and reward them for their efforts annually.
No Touch Freight
We have a no-touch freight policy that excludes our drivers from loading and unloading the trucks themselves which helps reduce physical strain on our drivers.
When the back strain and fatigue that comes with loading and unloading load is eliminated, our drivers are empowered to do what they do best – transporting our clients' goods to their locations in time and in the best conditions.
JOIN THE CLUB!
Cooper Freight is dedicated to building and maintaining long term partnerships with our customers, employees, and suppliers. We have a dedicated workforce who come to work every day determined to put their best in all we do. For this reason, we take our employees seriously, putting their happiness and satisfaction at heart in all that we do.
All our perks and incentives are channeled towards creating a better life for everyone who works with us, and we intend to do this for life.
We are currently looking for professional truck drivers to join our team, and we would be glad to have you on board.
DRIVE FOR COOPER FREIGHT
If you are in search of a truck driving job in the Memphis region, then Cooper Freight is the place for you! We are currently accepting applications from qualified truck drivers for Team, OTR, and Local Company Drivers.
Ready to work in a positive environment, enjoy 97% of your weekends at home and receive handsome pay and extra incentives as a truck driver? Apply here